About Us
Our Roots: Laboratory Supply Company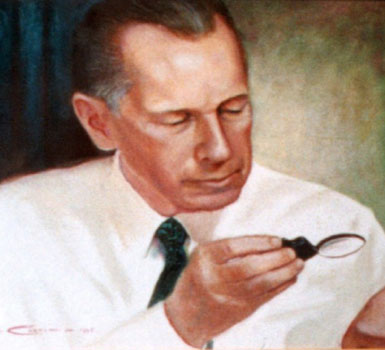 Lee Engineering was founded in 1926 and has unique history, beginning with its founder, Dr. Royal Lee. Born in a small, Wisconsin farming town in 1895, Lee was a child with a tremendous desire to learn. As he grew, he became an avid researcher and devoured books on inventors, science, and chemistry. He wrote journals and made lists of biochemistry and nutrition definitions. Fascinated with how the body worked, he studied the endocrine and immune systems and how they affect health. He became well-versed in biology.
Driven to learn, Lee taught himself physics from his older sister's schoolbooks. He was later asked to teach his high school physics class. After high school, Royal Lee found jobs working with farm machines, cars, and motors. In 1918 he married. Shortly after, he was called to the military to serve his country.
A Rising Visionary: An Electrical and Mechanical Engineer
In his 20's, Lee was hired by a company to repair complex electrical equipment. He became extremely interested in a dental drill motor in need of a redesign. Lee realized in order to understand the drill; he needed to think like a dentist.
He enrolled in the Marquette School of Dentistry in the early 1920's. While at school, he started building prototypes of dental drills. After a few years, he designed the centrifugal governor – measuring and regulating the speed of small motors. This unique invention won him the first of many patents. He then created the Lee Dental Drill, a fractional horsepower drill still used by dentists today.
Impacting the World through Engineering
By the time Dr. Lee graduated with a dentistry degree in 1924, he had become an established inventor. In his long career, he filed approximately 70 patents between 1927 and 1962. These patents and Lee Engineering helped to finance his passion – creating nutritional supplements with whole food sourced ingredients. Through his research in dental school, Dr. Lee had seen what the lack of proper nutrition could do to dental and physical health. His calling was clear and his fervent search for solutions was ongoing.
Nutritional Supplement Pioneer
Dr. Lee's zeal for nutritional supplements was a very new concept in the 1920's. He worked tirelessly to educate people about the importance of whole-foods' relationship to overall health. At the time, the value of nutrition wasn't as scientifically clear as it is today. Dr. Lee had his work cut out for him. He continued to research and develop nutritional supplements, following his philosophy: "Good health comes from good nutrition, and the best nutrients come from whole foods".
Dr. Lee created new techniques to prepare vitamin and mineral concentrates retaining the vital factors found in food. Many unique formulas followed and Dr. Lee had several companies as his nutritional supplement product line evolved. He also made the Lee Household Flour Mill, so consumers could grind their own nutritious flour.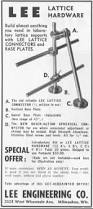 As time went on, there was more acceptance of nutritional supplementation and many of Dr. Lee's ideas became accepted facts. Today, we can recognize his legacy and the importance of nutrition and holistic engineering. Dr. Lee is viewed as a trailblazer in the nutrition movement and his company, Standard Process, Inc. continues his mission to provide whole food nutrient solutions.
Lee Engineering was the catalyst responsible for forming and supporting the foundation of Dr. Lee's lifelong dreams and is still a leader in science and chemistry laboratory outfitting.
Genius Inventor and Systems Thinker
Dr. Lee was never satisfied with status quo. He was always improving upon an electrical tool or inventing a mechanical device – always considering the purpose and system for which it is used. His view was every device could be fixed or enhanced.
At Lee Engineering, Dr. Royal Lee's presence is still strongly felt in our mission to supply chemistry, biology, and other scientific labs with materials designed to make experiments and testing the main focus of scientists, instructors, and students alike. Always designed for ease of set up, our materials help keep the focus on the experiment rather than the set up.
Experts in Laboratory Outfitting
Lee Engineering is the leading lab equipment company offering scientific laboratory supplies. These supplies include rod holders, lab frame assemblies, lab mounting rods and rod connectors. At Lee Engineering, we believe in the importance of accessible learning, we want to make it simple and available for everyone.
How to Build a Lab Bench
At Lee Engineering, we want your lab to be safe, durable, and efficient, so we've listed some tips on how to make your own lab bench below. Of course, you could contract someone to do the work for you, but if you're a budget-conscious, hands-on person who takes pride in your creations, this informative section might be the perfect resource for you.
Contact Us
Whether you need a custom or bulk lattice quote, inquiries about a custom product, or any other question, please reach out to us. The team at Lee Engineering is here to help you find the right product to complete your project or compliment your product. We can't wait to hear from you.